TECHNOLOGY REVIEW:  Our client netTALK was featured in a review on the website One More Gadget
CLICK HERE TO READ FROM SOURCE OR READ BELOW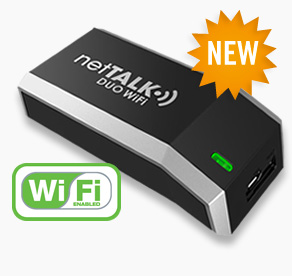 Now you can take your landline with you without ever having to move your house! It's a new product that may in fact change your life. It's the netTalk Duo WiFi and it let's you talk on your netTalk landline anywhere you have internet access.
This is the world's first wireless VoIP telephone device – it doesn't rely on a computer, or a router and yes, it's also available in Canada!
The biggest benefit of this gadget is you can kiss your high phone bills goodbye. Here are some of the perks:
• Free Canadian Phone Number
• So long Phone Company! NetTalk has no contracts or monthly bills
• Free Call Waiting / Caller ID / Call Forwarding
• Free Voice Mail to Email
• Free True Canadian E911
• The lowest cost, flat-rate international call plans in the industry
• Live customer service and technical support
So how does it work? Simple.
The netTalk device plugs into any phone and once it's connected to a wifi signal, presto, you're all hooked up. Every netTalk comes with a year free of service so you can literally say goodbye to phone bills. Also, you can grab the free Smartphone App that will allow you to make calls via your cell phone's internet connection too so you can save on your minutes and use the WiFi at Starbucks instead. And the biggest selling point for me was, no more roaming charge. I literally can take my landline with me now. Genius.