BLOG STORY:Our client, Debbie Sterling was featured in a story about her new toy company, GOLDIEBLOX.
GoldieBlox Knows it Takes More than Just Making it Pink to Appeal to Girls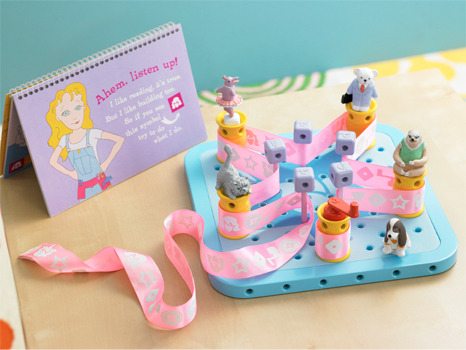 http://the-gadgeteer.com/2012/10/10/goldieblox-knows-it-takes-more-than-just-making-it-pink-to-appeal-to-girls/
A couple of years ago, I asked the question Are Gadgets Just for Guys? and said that making it pink doesn't mean it will appeal to women – it just guarantees it won't appeal to men.  The real problem goes beyond pink and making gadgets appeal to females.  It goes to the very heart of making women and girls interested in technology, math, and sciences.  Did you know that girls begin to lose interest in these subjects as young as 8?  That women only represent 11% of  engineers?  The inventor of GoldieBlox (a Kickstarter project), Debbie Sterling, is a Stanford engineer who knows just how difficult it can be to make math, science, and engineering appeal to girls.  She created a toy that combines a book about a girl inventor who loves to build with a construction set.  It's designed for girls ages 5-9, before they begin to lose interest or internalize the message that certain things and activities aren't for girls.  Ms. Sterling says:
"I spent a year doing in-depth research into gender differences and child development to create the concept. My big "aha"? Boys have strong spatial skills, which is why they love construction toys so much. Girls, on the other hand, have superior verbal skills. They love reading, stories, and characters.
"GoldieBlox is the best of both worlds: reading + building. It appeals to girls because they aren't just interested in 'what' they're building…they want to know 'why.' Goldie's stories relate to girls' lives. The machines Goldie builds solve problems and help her friends. As girls read along, they want to be like Goldie and do what she does.
"Goldie's toolkit is inspired by common household objects and craft items — things girls are already familiar with. Plus, the set features soft textures, curved edges and attractive colors which are all innately appealing to girls. Last but not least, the story of Goldie is lighthearted and humorous. It takes the intimidation factor out of engineering and makes it fun and accessible. "
As of the time of this writing, GoldieBlox has far exceeded the funding goal, but the funding period doesn't expire until Oct 18 at 2:50am EDT.  You still have plenty of time to pledge at least $30 to get your daughter or granddaughter Goldie's first book/construction set, called "GoldieBlox and the Spinning Machine", complete with figurines. Estimated delivery is February 2013.  Also check out the GoldieBlox website for more information.