Newspaper Story Our client, Kennedy Wilson Auction Group is holding an auction in Portland Oregon.  This auction was featured  in a news story  in Portland Tribune.  Kennedy Wilson's client Realty Trust is quoted in this story rather than Kennedy Wilson directly.
Signs of real estate life?
Builders, Realtors look for signals that home sales are bouncing back
By Jim Redden
The Portland Tribune, Apr 8, 2010
This is a great time to buy a home. Really, it is. The recession has produced a slowdown in home sales, resulting in a glutted market and increasingly desperate sellers who are cutting their prices. Interest rates remain near historic lows and builders are offering incentives to potential buyers.
And until the end of the month, the federal government is also offering tax credits to both first-time and repeat homebuyers. First-time buyers can qualify for credits of up to $8,000, depending on their income and the price of the home, while repeat buyers can qualify for credits of up to $6,500.
As Portland-area homebuilder Roger Neu sees it, if sales don't pick up now, then the future looks grim.
"New home construction is key to the economy. If we can't whittle down the existing inventory, any recover is a long way off," Neu says.
Monthly employment reports generated by the Worksource Oregon Employment Department
confirm Neu's observations. They show that unemployment in the state has lingered at just over 10 percent for the past four months, around 1 percent higher than the national average.
And the reports further show that the economic slowdown is taking perhaps its greatest toll on construction jobs, including those in the homebuilding field. According to Worksource statistics, construction jobs in Oregon have been shrinking steadily for more than two years. The seasonally adjusted peak was nearly 105,000 during most of 2007, when homebuilding was booming. But by February 2010, construction employment had fallen to 64,500, its lowest level since November 1994.
That is why Neu and others in the field are placing so much hope on the start of the home-buying season, which traditionally kicks off this month with the Ultimate Open House, sponsored by the Home Builders Association of Metropolitan Portland. It is a free, self-directed tour of new homes throughout the region.
This year's tour was moved up a week to allow more potential buyers to take advantage of the federal tax credits before they expire. Buyers who sign earnest money agreements by April 30 will qualify for the breaks.
"Our No. 1 priority is to educate people (about the tax credits) before and during this event," says Hallie Genty, HBA's Ultimate Open House manager.
Neu's situation provides an example of the economic ripple effect that will occur as the real estate market recovers. He has a home in this year's tour. It is part of the Eastview Ridge condominium development, which he built just above Southwest Barbur Boulevard near Capitol Highway. Although the 35 units first went up for sale two years ago, only 15 have sold so far — forcing Neu to postpone work on a subdivision site he already owns in Hillsboro.
"I figure when I sell 10 more, I'll be in a good position to start the next project, but not until then," Neu says.
Demand may be building
Home sales have, in fact, picked up in recent months. According to the most recent Regional Multiple Listing Service report for the Portland area, closed sales grew 2.9 percent between January and February of this year, while pending sales were up 20.5 percent.
Both are significant improvements over last year, too. Compared with January 2009, closed sales this January were up 34.7 percent and pending sales were up 24.3 percent in the most recent RMLS report.
TRIBUNE PHOTO: L.E. BASKOW • Roger Neu built the Eastview Ridge condomiums on Southwest Baird above Barbur Boulevard in Southwest Portland. Because of the poor economy, Neu has postponed his next project until he can sell at least 10 more units.
Brad Hansen, a sales representative and mortgage consultant at MetLife Home Loans, believes the federal tax credits are responsible for much of the improvement. According to Hansen, first-time homebuyers traditionally account for around 30 percent of the loans he approves. Right now, they are accounting for about 70 percent.
"We're definitely seeing a big surge in first-time homebuyers," says Hansen, whose company is also a sponsor of the Ultimate Open House.
One person who recently took advantage of the first-time homebuyer tax credit is Jacob Schleifer, who bought a one-bedroom unit in a West Linn condominium development. After graduating from Western Oregon University with a business degree in 2008, Schleifer moved back home with his parents and took a job at the family-owned Broadway Furniture store in Northeast Portland. He cut back on discretionary spending and saved his money for months to come up with the down payment.
"My father and grandfather always told me that you're throwing your money away if you rent. I believe that, and when I heard about the tax credit, I knew it was time to buy," Schleifer says.
After looking at various homes, Schleifer bought an existing one-bedroom unit in the Summerlinn Villa Condos above Interstate 205 near the 10th Street exit for $120,000. He has since painted the rooms, replaced the carpet and bought new appliances.
"This is perfect for me," Schleifer says. "I feel like I'm building my future."
Bill Hupfer, the Realtor who steered Schleifer to the home and helped him arrange financing, believes there are many other people like him out there.
"A lot of people are doubled up right now. Children living with parents and friends living with one other. There's a lot of pent-up demand out there," Hupfer says.
Some areas hot, others wither
Some of that demand is being met at liquidation prices. Perhaps the hardest hit segment of the Portland-area housing market has been high-end condominiums, especially in the yet-to-be completed South Waterfront area.
In that area, once billed as the city's next great neighborhood, construction has all but ground to a halt along the west bank of the Willamette River south of the Ross Island Bridge. Units in the completed-but-unsold residential towers are now being offered at cut-rate prices.
Fifty luxury condominiums in the John Ross building will be up for auction later this month with starting prices in some cases reduced 53 percent below original asking prices. Minimum selling prices will begin as low as $110,000 on 44 units previously offered from $184,000 to $549,000. Penthouses previously listed at between $579,000 to $1.149 million will start at $290,000.
The auction will begin at 1 p.m. on Sunday, April 11, at the Hilton Portland & Executive Tower, 921 S.W. Sixth Ave. It follows a September 2009 auction of 40 units in Atwater Place, another luxury tower in the South Waterfront area where unsold condos were liquidated for between 58 percent and 66 percent of their original asking prices.
Although the collapse of the high-end condo market has received a lot of press, Todd Prendergast, a principal with Realty Trust, says some homes in certain parts of town have continued selling over the past few years. For example, Prendergast says, demand has remained strong for homes under $400,000 in the Mt. Tabor and Hawthorne Boulevard areas of Southeast Portland.
"There are submarkets that never slowed down. If people think something is a good value, they will continue buying," Prendergast says.
The most recent RMLS report also identifies the hottest geographic areas in the Portland area:
• As of February, homes were selling fastest in North Portland, where they averaged 74 days on the market and sold for an average $238,300.
• The next hottest market was Northeast Portland, where homes averaged 114 days on the market and sold for an average of $275,000.
Third on the list was Southeast Portland, where homes were averaging 119 days on the market and sold for an average of $227,400.
After that, the action moved out of town to the Milwaukie and surrounding Clackamas County area, where homes were averaging 136 days on the market and sold for an average of $250,000. Then came the Hillsboro/Forest Grove area, where homes were averaging 138 days on the market and sold for an average of $227,200.
Homes were selling much slower in West Portland, which includes downtown and the West Hills. According to the report, homes there were averaging 208 days on the market and selling for an average of $408,800 in February.
The Eastview Ridge condominiums reflect the relative slowness of the West Portland market. The remaining unsold units range from $269,950 to $379,950. To help move then, Neu's bank is now offering special financing to buyers of the units.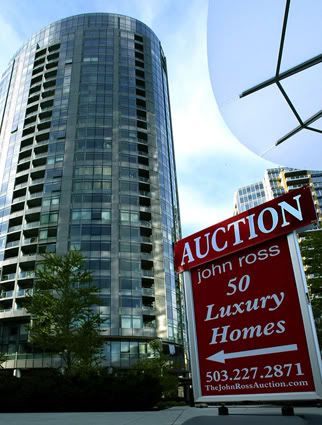 TRIBUNE PHOTO: L.E. BASKOW • Liquidating upscale condominiums in the John Ross tower in South Waterfront is necessary to reduce the existing inventory of unsold homes so that residential construction work can resume.
First a job, then a home
Despite the positive response to the federal tax credits, no legislation has yet been introduced in Congress to extend them. But Neu, Hansen, Hupfer and Prendergast know that in the long run, it will take more than tax credits to turn things around. The four men agree that the economy and housing market are intertwined. Both went down together and neither will improve without the other.
"A lot of people think the housing market collapsed because there were a lot of bad loans," Hansen says. "There were some of those, but what really hurt was when people started losing their jobs. Couples could make their payments until one of them got laid off or had their salaries cut. That's when things really started to get bad."
Neu says government must concentrate on creating more good-paying jobs.
"The stimulus spending has been important, no doubt about it. But everyone knows that many of the jobs it created were temporary," Neu says.
Hupfer agrees, saying that despite the pent-up demand, home sales won't significantly improve until people stop worrying about their jobs.
"As long as things are uncertain, a lot of people are going to be afraid to make big commitments," Hupfer says.
And Prendergast also believes that credit is still too hard to get — both for construction and home loans.
"The pendulum has swung too far in one direction. Yes, money was too easy a few years ago. But now it's too tight and something needs to be done about that," Prendergast says.
At the same time, Prendergast says 2010 is poised to be the year the real estate market begins to recover. He notes there are only around 500 unsold new homes in the Portland area right now, compared to about 2,600 in 2007.
"Once the inventory is gone, demand will increase. I predict that in a few years, we'll look back and say 2010 was when things started to turn around," Prendergast says.
-jimredden@portlandtribune.com