ONLINE STORY:  Our client, Jackpot Digital was featured in a story on Pokernews.com
CLICK HERE TO READ FROM SOURCE OR READ BELOW
September 26, 2017

Sean Chaffin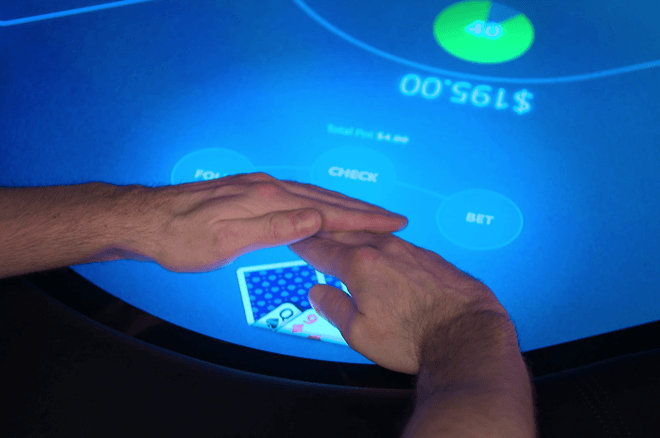 Putting the fun back in poker is a regular refrain within the poker community at the moment. From YouTube to Twitter to televised cash games like "Poker Night in America," mixing in a little entertainment and happiness as the cards are dealt has become a goal for many. It is into this atmosphere, that Canadian company Jackpot Digital recently announced the introduction of its new all-digital Jackpot Blitz poker and gaming table – with features designed appeal to rounders out for some cards and a good time.
TOUCH AND GO
The Blitz tables offer a new experience for players getting in on the digital, dealer-free action. They feature an 84-inch, 4K resolution touchscreen with more than 100 sensitive touch-points to replicate a traditional live poker experience complete with gesture-based gameplay. Similar to a real game, players use hand movements to manipulate the cards – such as cupping hands around hole cards to take a peek and tapping the table to check. The tables are set up to play Texas Hold'em, Omaha, and even video poker.
Blitz tables feature 10 player seats and an interesting additional feature that may be of interest to regular poker fans – the option to play an additional side game in between hands. A player locked in a cash game who gets a little card dead now has other options. The player can play a hand of blackjack or craps or even bet on horses. Other options include blackjack, baccarat, and roulette.
"THERE ARE POKER ROOMS ON THE STRIP CLOSING THEIR POKER ROOMS BECAUSE IT JUST DOESN'T PAY. NOW YOU CAN STILL OFFER THAT TO YOUR CUSTOMERS BECAUSE YOU DON'T HAVE THAT ADDITIONAL EXPENSE."
Depending on the legalities of sports betting in a casino's jurisdiction, players may even be able to drop a few bucks on that night's football or basketball game. Jackpot, based out of Vancouver, sees the table as a way to appeal to smaller casinos who may not be able to dedicate space and personnel to poker, but still offer it to gamblers.
"There's so much you can do with this table," CEO Jake Kalpakian says. "It's our intention to get this product out in a lot of different venues wouldn't have a poker room to begin with. Mom and pop operators may not necessarily want to have a staff for poker and budget the capital outlay. There are poker rooms on the Strip closing their poker rooms because it just doesn't pay. Now you can still offer that to your customers because you don't have that additional expense."
Founded in 1999 as an Internet gaming operator and software developer, Jackpot has focused on developing electronic table games since 2015. So far, the company has licensed about 100 Blitz tables since unveiling them in June. One of those customers includes Carnival Cruise Lines, which is using Jackpot Blitz tables as part of its tournament series and cash games. Kalpakian said the company has a couple of large orders to announce soon including some big names in the casino industry, and is hoping to distribute 350-500 tables in the next year. Jackpot draws revenue from a cut of the tables' rake and on any casino games played.
As for the rake, Kalpakian says there won't be a savings there – it's in line with typical brick and mortar casinos. However, with no dealer to tip players can keep a few bucks in their pocket after each pot won.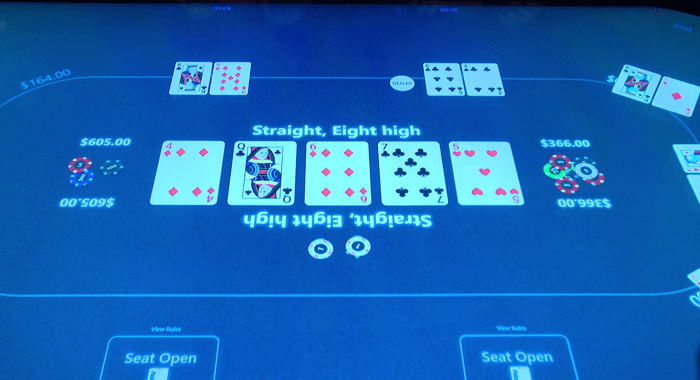 MADE FOR MILLENNIALS
As casinos work to reach younger gamblers, Kalpakian sees Jackpot Blitz as a way to engage this segment of the market that grew up playing video games and online poker. The format offers a hybrid of online poker and the live experience. The ability to stay engaged between hands also helps draw cell phone-addicted players accustomed multi-tasking.
"The technology is something they're used to already," he says. "It's got all the bells and whistles. It's got so many things that you can do that it keeps you mentally stimulated at all times. At a poker table, sometimes you see guys bringing iPads to play online while they're actually at a cash table. You don't have to do that anymore. There are always ways to be occupied."
What sets Jackpot Blitz tables apart from others in casinos? Many of those are Poker Pro tables originally manufactured by a company called PokerTek, which was based in North Carolina. Those lacked many of the features that poker players have come to expect.
"They were basically 10 terminals that you played and it was just basically Texas Hold'em and the payment systems were very archaic," Kalpakian says. "There were no other real features, no tracking, no other games, no comping. It was outdated technology."
In 2015, Jackpot bought out PokerTek and began the process of moving from the PokerPro machines to a more dynamic, interactive product, which eventually became Jackpot Blitz.
"IT'LL NEVER REPLACE ALL THE DEALERS. WE DON'T WANT TO DO THAT."
"This is touchscreen so consider it like one giant iPad with touch points all over it," Kalpakian says. "You're not only playing poker, but you can also, while you're sitting out a hand or waiting for a hand to start, play blackjack, baccarat, order a drink, or ask for a comp.
At a single Blitz table, five players can even play Texas hold'em while the other five play blackjack. Despite the additional game options, Kalpakian sees Blitz as a great poker table first and foremost.
"One of our customers said that it's like you took someone with a 1980s cell phone and the next version you gave them was an iPhone 8," Kalpakian says. "That's what we've done with this product. It has enormous flexibility – we built it with the poker player in mind.
"I think it's the future. It'll never replace all the dealers. We don't want to do that. What we want to do is just be like how online poker complemented the growth of poker with poker tables springing up everywhere. I think that it's a product whose time has come and you can blend it in with what's fun with the consumer. We want to make it fun and friendly, and a faster game and a more stimulating game."
Only time will tell if players will embrace betting and bluffing on the digital felt in a casino, but Jackpot is hoping its new tables find a niche in a poker market that seems to be on the upswing.
SIDE POT – Interested in a Jackpot Blitz table for that home game? Kalpakian says his company receives an almost equal amount of inquiries for personal use, but because of gaming laws and the strict regulations that the tables must go through, the tables won't be in people's homes anytime soon. "We've been trying to figure out how we can get around that," he says. "At this moment, no."
See the Jackpot Blitz in action: